Iowa Data Science Degree Programs
i
Consider a sponsored online program currently accepting applicants.
Click to see more featured 100% online data science programs currently accepting applicants for 2023.
The only higher educational program in data science fully distributed online in the state of Iowa is through Drake University, where they provide a specialized pathway toward a leadership role in the field.
Both of the bigger public universities in the state, the University of Iowa and Iowa State University (the largest student body within the state of Iowa), have Business Analytics programs, the latter having some courses available online. Both schools do have additional locations for further education in the state.
i
Consider a sponsored online program currently accepting applicants.
Click for more online data science programs that are taking applications for 2023.
Are there online data science programs in Iowa?
Yes. Here is the list of some of the best online data science degree programs in Iowa that we have found so far.
| University | Program | Location |
| --- | --- | --- |
| Loras College | MBA - Business Analytics | Online |
i
Consider a sponsored online program currently accepting applicants.
Full List of the Best Iowa Data Science Degrees
Here is the list of some of the best data science programs online and at campuses in Iowa. List was last updated for 2023.
University
Program
Location

Drake University College of Arts and Sciences

B.S. with a major in Data Analytics

Des Moines

General overview of data science and analytics requires at least 53 credit hours. Main topics includes ethical and legal standards, calculus, and R and SAS programming. Electives provide advanced education in these categories, AI, marketing, and bioinformatics.

Drake University College of Business & Public Administration

Master of Data Analytics Leadership

Des Moines

All core subjects and elective options are available in an online format. Explores business analytics through team projects, statistical modeling, and legal and ethical issues. Gain expertise with using R or SAS programming software.

Iowa State University Liberal Arts and Sciences

B.S. in Data Science

Ames
39 total credit hours required for the Data Science major. Curriculum looks into database management systems, statistical theory, and large-scale source analysis. Specialization offers expertise with analytical software or applying biology with informatics.

Iowa State University College of Business

M.S. in Business Analytics

Ames
Offers blend of on-campus and online education in a span of 21 months. Seven courses are available online, including foundational content, forecasting methods, and multivariate statistics. Three core courses have distribution weekly at the Ames campus location.

Loras College Loras College

MBA - Business Analytics

Dubuque
Applied Analytics program offers advanced programming skills to develop data-driven solutions. Courses distributed in hybrid format of online and on-campus experiences. At least a 2.75 cumulative GPA or higher needed with undergraduate education.

Luther College Computer Science

Bachelors in Data Science

Decorah
Major offers fundamentals in computer science and data analysis. Statistics course can be traditional or substituted with an alternative option. Can gain expertise in fields of biology, economics, or business management.

Maharishi University of Management Computer Professionals Program

MS in Computer Science Data Science Track

Fairfield
Big data analytics and machine learning concepts offered through the data science track. Courses act as a supplement to software development content within the main program. Core development topics provide education with web applications, architecture, and Java programming.

Northwestern College Adult and Graduate Studies

Analytics Certificate

Orange City
Statistics major offers preparation for scientific research, engineering, or education positions. Features advanced topics in validating data sources and using Bayesian Analysis. Students understand database management design and visualization techniques.

The University of Iowa Business

Bachelors in Business Analytics

Iowa City
Concentrations in Business Analytics or Information Systems available. Business focus offers statistical solutions such as multivariate analysis and Monte Carlo simulation. Also provides technical skills in data mining, business intelligence, and culminating capstone project.

The University of Iowa Business

Business Analytics Certificate Program

Iowa City
Requires completion of the general overview of data science and advanced analytical methods. Programming in Python or R programming also needed with visualization strategy. Students may combine the certification with the MBA to provide an analytical focus.

University of Iowa Department of Statistics and Actuarial Science

B.S. in Data Science

Iowa City

Data Science discipline blends statistics and computer science offerings at the university. Prerequisites include many levels of calculus and linear algebra before entering the major. Advanced topics for electives include health data analytics, web mining, and cloud computing.

University of Iowa Tippie College of Business

Master of Business Analytics

Iowa City

Advanced analytics focused on improving business strategy and operations. Completed in as little as 16 months with summer internship and case competition. Part-time format available in Cedar Rapids, Des Moines, and Quad Cities during weeknights.
Notice a missing or inaccurate program? Our data is hand-collected and edited. If you notice a missing data science program, please email schools at datascienceprograms.org to enter a program to be reviewed or to adjust a current listing.
Online Data Science Programs in Iowa
Iowa State University Masters in Business Analytics
Through the Debbie and Jerry Ivy College of Business, Iowa State offers both a Master and Graduate Certificate in Business Analytics. The Master's degree can be completed in 21 months after completing 30 credit hours. Much of the program can be completed online, but three of the six core courses must be completed in a one-week campus residency. All five elective are available online: Knowledge Discovery and Data Mining, Data Analytics and Visualization, Applied Time Series, Theory and Practice in Algorithms for Large Data Sets, and Applied Modern Multivariate Statistical Learning.
Online courses are offered in asynchronous format. Admission into the program requires submission of the application, resume, a one-page statement of purpose, a letter of recommendation, and transcripts. There is no need to submit GRE or GMAT scores. A graduate certificate in the same subject can be completed on campus, online (with the courses available in that format), or at a remote location in Des Moines. The certification requires a course in Business Analytics Foundation and three other electives.
Drake University Online Master of Data Analytics Leadership
Drake offers an online Master of Data Analytics Leadership, a specialized program which focuses on higher-level roles in the industry. Students will learn to lead projects that involve data analytics to help solve problems and optimize businesses, along with education in various Microsoft software and programming tools like Python, R, and SQL. The 30-credit program, split evenly with core and elective courses, can be completed in two years and it is geared for part-time students.
There are five core courses to complete in the curriculum: Business Analytics, Teams, and Projects; Legal and Ethical Issues in Information Technology, Data Management and Visual Analytics, Statistical Modeling, and Applied Analytics Project. Another option for students not wanting to enroll in the Master's degree is to get a graduate certificate by taking only the core courses. Elective options include Quantitative Analytical Methods and Communication for Entrepreneurs and Business Professionals.
University of Iowa Master's in Business Analytics
Similar to Iowa State, the University of Iowa offers a Master and Graduate Certificate in Business Analytics through the Tippie College of Business. There are no opportunities for online coursework, but there is opportunities to learn outside of the Iowa City campus in weeknight classes in Cedar Rapids, Des Moines, and the Quad Cities. For full-time students, an MBA can be completed in 16 months with core courses, electives, and an internship or research project in the summer.
The following core courses are offered in the program: Data and Decisions, Data Management and Visual Analytics, Advanced Analytics, Data Programming in R, Data Science, Analytics Experience, Business Communications. Some elective options are Big Data Analytics and Digital Marketing Strategies. Part-time students have the same curriculum, and those going after the certificate will need to take those classes to complete the program.
Scholarship Opportunities within Iowa
A scholarship sponsored by Kingland benefits students that are going into a business or data analytics program at Iowa State University. This was given by the company in 2017 due to the number of students they have hired from the university.
There are various scholarships available for full-time students enrolled in a program through the Tippie College of Business at the University of Iowa. There are also teaching and research assistantships that offer stipends, health insurance benefits, and tuition for students that are enrolled at least half-time (five semesters hours during the year).
Data Science Careers in Iowa
Iowa has over 92,000 employees in the tech industry according to CompTIA. They have had small gains over the years but still rank 30th nationally.
They have seen significant growth in IT services (3.1 percent year-over-year) and in engineering and testing (3.3 percent year-over-year).
The average salary in the state is just over $70,000, which is slightly lower than most of the surrounding states, but higher than North and South Dakota.
Data Science Events, Meetups, and Conferences in Iowa
ISU Spring Analytics Symposium
Iowa State University's Debbie and Jerry Ivy College of Business have held this annual event since 2016. As of lately, it has been held at the Iowa Events Center in downtown Des Moines. Over 500 people in attendance meet together at the symposium for talks on various data science topics such as data visualization, machine learning, and cybersecurity from industry professionals.
Farm Futures Bootcamp and Business Summit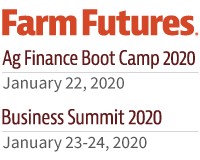 Farm Futures Bootcamp and Business Summit Website
The three-day event in Iowa City features two segments: an ag finance boot camp to help sharpen skills in business management and a two-day summit that dives into business analytics with an agricultural spin, such as how the upcoming 2020 election can impact the sector and how to make money with in the grain market (or to minimize disruption) and soil health. Previous attendees have praised the ideas discussed at the event and networking potential.
Central Iowa R User Group

Central Iowa R User Group Website
This group with over 600 members has weekly study groups in R and Python programming. Smaller groups will meet together in libraries and coffee shops to work on data sets and figure them out together. Members of these smaller groups can fluctuate and meetings are aimed to be between two to four hours. Meetings have routinely been held at Panera Bread in West Des Moines.
Iowa Data Science Career Statistics Information
| | |
| --- | --- |
| Number of people employed within the tech industry: | 92,036 |
| Average tech industry salary in Iowa: | $70,099 |
| Estimated Iowa tech salaries range: | From $45,159 to $102,236 |
| Male Employment: | 30,219 (66%) |
| Female Employment: | 15,809 (34%) |
* Data sourced from CompTIA, CyberStates.org, a data aggregate for tech workforce analytics.