Bootcamps for Data Science
i
Consider a sponsored online program currently accepting applicants.
Click to see more featured 100% online data science programs currently accepting applicants for 2023.
Instead of going through a traditional university or college to receive education in data science, a generally cheaper and quicker option is going through a bootcamp. These academies provide all the courses and tools needed to succeed in any data science career, especially in terms of programming and data analysis. Bootcamps can be taken in-person in a computer lab, or online, and is an alternative to taking a data science degree program which are a longer time frame to completion.
Learn About the Best Data Science Bootcamps & Differences Between a Degree
There are key differences between obtaining a Data Science Master's degree and going through a bootcamp, as traditional courses provide more of a general overview of the field and bootcamps have a bigger focus on developing soft skills and implementing the latest technological innovations. There are a number of great bootcamp options both in major cities and online.
What are Data Science Bootcamps?
Bootcamps in the field of data science are rigorous multi-week courses that train people in specific subject matter. They differ from traditional higher education, like obtaining a degree in computer science, in terms of having a shorter time commitment and being cost effective. Typically, bootcamps will last around 12 weeks or less on each topic and at a fraction of the cost it takes in a Master's degree program. Some programs even have a guarantee of job employment at the completion of the program, and those that finish early will pay less tuition.
Programming or coding bootcamps are among the most popular
Programming bootcamps are among the most popular, where students can quickly learn how to code structures in Python, analyze datasets with R, and query data with SQL. Web development using Java and Node.js is a frequent option among various programs, as well as traditional data science subjects such as machine learning, artificial intelligence, deep learning, natural language processing, data visualization, and predictive analytics. Many of these opportunities are available online instead of needing to meet at a specific location.
While traditional higher education curricula provide fundamental courses and a general overview of the data science field, most bootcamps will assume that people have a background in mathematics and programming. While there is less time commitment in the long-term, students should prepare for lengthy days of learning material and doing coursework. Most programs have a rigorous schedule that needs to be maintained in order to finish in the time-frame. This is not always the case with some programs like Metis offering beginner's level courses, or bootcamps that provide a bit more flexibility with part-time and full-time options.
i
Consider a sponsored online program currently accepting applicants.
Click to see more online Data Science programs accepting applications.
Why Take Data Science Bootcamps?
There are many advantages in signing up for a bootcamp instead of pursing a degree. Bootcamps have a focus on teaching soft skills in data science, which is communication, teamwork, and the ability to innovate. Typically, coursework will mimic real-life situations in the workplace. Students will have to analyze datasets, create predictive models, and solve or optimize business processes. Capstone projects at the end of many Master's programs in data science will have a similar feature.
Easy to implement new technology
However, the benefit of the bootcamp is offering the latest technology and software for students to work on. It is easier to implement new innovations into the program material when compared to a university, which tend to be slow at changing their curriculum. Bootcamps also have the ability to manipulate the material for specific job positions that are in high need based on new technological development or location. For example, Springboard's data science prep course has realistic business problems for the popular crowd-sourced review website, Yelp.
More flexible time frames to start and finish
Many bootcamps have a rolling start date, which means opportunities to jump into an academy are frequent and unspecific. It can be as often as each week up to every few months, depending on how much demand there is for the specific course. This is much more flexible when compared to universities and colleges that can have as few as one start date for their programs, but typically there are two to three seasonal start times.
Direct hands on experience
As bootcamps become more popular, companies are accepting the completion of these programs in lieu of a four-year degree with benefits such as being able to work with teams, handling real-world data, and having up-to-date technology expertise. However, it is worth noting that high-level executives and specialty areas like machine learning engineering still mostly require Master's degrees and plenty of professional work experience.
More affordable
Finally, costs can be a significant difference based on the bootcamp selected. One of the popular, cheaper options is Dataquest. Each of their R and Python programming courses are 24 weeks long and are available for $29 per month (that is around $174 total). Compare that to a new student at the University of California-Berkeley who would be paying $16,261.50 for two classes in Fall 2019 after adding in campus and management fees.
What to Expect in a Data Science Bootcamp
In many ways, attending a bootcamp is similar to obtaining a certification. It is a quick way to receive credentials when making a career change or moving up to a better opportunity. However, professionals will need to make the short-term time commitment. Many bootcamps require a significant number of hours, sometimes reaching the amount of 8 to 10 hours each day when pursuing the really short courses.
Cost assistance is available
Even if the price tag on bootcamps are still too expensive, scholarships are available for some programs, typically if they require a full-time workload. For example, Metis offers a $3,000 scholarship for women, minorities, and veterans, providing a helpful pathway for underrepresented groups. Some academies do not require payment up front, allowing for a deferred tuition option with added interest or paying them back once employment is official.
Expect direct hands on work
Bootcamps will have an emphasis on teaching soft skills, such as teamwork and communication, and are not too focused on foundational courses in the data science field. Students that do not have a background in computer science, math, or programming, be it prior coursework or just being familiar with the content, could struggle with bootcamps that provide new information at a rigorous pace. This will lead to higher costs if paying on a monthly basis, or dismissal from the program.
Some bootcamps offer job placement
On a better note, some bootcamps offer a job placement guarantee. For example, Thinkful provides networking opportunities and career coaches available for those going through their academy, and students that do not gain employment in the tech industry will get their money back. Up to 96 percent of people taking the program have graduated on time, and 86 percent have been hired in paying positions (full-time, apprenticeship, internship, or contract work).
Top Data Science Bootcamps
Springboard Data Science Bootcamp

One of the most popular bootcamps in the data science industry is offered exclusively online. They provide a number of career tracks to select from: Data Science, Machine Learning Engineering, Data Analytics, UI/UX Design, and Digital Marketing. All but the final option has a job guarantee where they will be hired within six months of graduation or they will get their money back. Graduates will work with career coaches who will aid them in scoring an opportunity, but it may not necessarily be in the exact field.
Admission is dependent on passing qualifications, such as being at least 18 years of age, holding a Bachelor's degree, speak English and are eligible to work in the United States for two years after graduation, and pass background checks. There is also a special preparation program for those new in Data Science to prepare them for the official career track.
There are multiple options for payment in the Data Science track. The cheapest option is paying $7,500 upfront for the full six-month program. There is a month-to-month option to pay for only the months needed (around $1,500 each month), financing for very low payments, or a deferred tuition option where there is no worrying about payment until the new job begins. Benefits of using Springboard include lifetime access to guidance and the community, and hiring partners are located in many metropolitan areas across the country.
Data Science Dojo: Bootcamps

This unique data science bootcamp that covers fundamental data science education is completed in just five days. Students will work a rigorous 10 hours each day throughout the week, filled with lab sessions for discovering various techniques in data visualization and machine learning and creating models and parsing data with many programming tools from Amazon and Azure. Also, students will enter a Kaggle competition (data mining, predictive modeling, and analytics) and they will complete a project with the Internet of Things.
Participating in the Data Science Dojo bootcamp requires attendance in one of various locations. There are no official prerequisites to join the academy and students will receive an introduction to R programming as preparation before the big week. The entire five-day event costs $4,000, but there is up to 30 percent discount for those that sign up early enough, or a 5 percent discount for groups of four or more people that sign up together. Opportunities generally happen twice each month, with current opportunities in New York City and Washington DC, and future opportunities in Chicago, Las Vegas, Miami, San Francisco, and much more.
General Assembly Data Science Bootcamp

Since 2011, this academy explores all kinds of data science topics, including Data Analytics, Digital Marketing, Software Engineering, UX Design, and more. There are all kinds of course formats, such as free introductory courses that are live-streamed, part-time courses, and full-time courses. Enrollment opportunities will vary based on location. Many on-campus locations are located in metropolitan areas like Atlanta, Chicago, Denver, Minneapolis, New York City, and San Francisco.
For those not able to enroll at a physical location, GA offers a full, immersive track in Software Engineering, and part-time courses in Python Programming, Data Science, Data Analysis, Digital Marketing, User Experience Design, Product Management, Front-End Web Development, and Javascript Development. Looking at the Data Science curriculum, topics are separated into the following units: Programming Basics, Research Design and Exploratory Data Analysis, Foundations of Data Modeling, and Machine Learning.
The entire Data Science program will typically run for at least two months, and longer during sessions that surround the winter holidays. Courses run for three hours on two separate days each week, and the entire program costs $3,950, which is the standard amount for many online data-related courses. Financing options include 0 percent interest on monthly payments or receiving a $250 discount when paying up front. Online opportunities to jump in happen at least once per month.
NYC Data Science Academy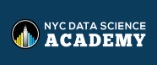 The popular data science academy based in New York City since 2014 also provides online options across the country. Various curriculums provide a series of real-world data problems for students to solve using the course lectures and becoming comfortable with program tools like Python, R, Hadoop, and Spark. Students that have graduated from the program have gone to work at major corporations such as Google, JP Morgan and Chase, and Capital One, and there is a 93 percent success rate. The New York State Education Department licenses the academy.
There are two kinds of data science bootcamps based on location. In New York City, there is a 12-week bootcamp that provides coursework in data visualization, machine learning, data engineering, and a capstone project. Career guidance workshops culminate the end of the program. Sessions are typically held each season. The online option also has seasonal, rigorous bootcamps, but the entire program can be completed in 4, 6, or 10 months. The longer the curriculum, the less time commitment is needed each week. The curriculum is similar in either option.
Other bootcamp opportunities are specializations in Python and R programming and mastery as a data analyst or data scientist. For beginners, there is an Introductory Python program opportunity. Costs for each bootcamp range from $1,500 to $3,000, with the more expensive options diving into more advanced topics in big data and deep learning.
Local Data Science Bootcamps Near You
There are many new data science bootcamps popping up across the country. Consider viewing information on your state by clicking it in the list below. On every state page, we have gone through some of the top Data Science organizations in that state. You can check with the organization or event, do some networking, and see what bootcamps might be available.