Data Science Programs in Michigan
A handful of online graduate programs in data science are available in Michigan, with the biggest university in the state having a full degree in applied data science and a graduate certificate in business analytics given by Michigan State University.
While there are not many scholarship opportunities to aid in tuition online, more opportunities exist for those interested in the on-campus experience at a Michigan university.
Quick Overview of Michigan Data Science Degree Programs
Schools in Michigan with data science programs include:
Baker College:

MBA in Business Intelligence

Central Michigan University:

Certificate in Data Mining

M.S. in Applied Statistics and Analytics

Davenport University:

Master of Science in Health Informatics and Information Management

Eastern Michigan University:

Master of Arts in Applied Statistics

Masters in Enterprise Business Intelligence specialization in the Master of Business Administration

Grand Valley State University:

M.S. in Data Science and Analytics

Master of Science in Biostatistics

Michigan State University:

M.S. in Business Analytics
Click to jump to the full list of Michigan data science programs
, or consider learning more about one of the below online data science degrees currently accepting applicants.
Featured Online Data Science Programs
AD
DataSciencePrograms.org is an advertising-supported site. Featured partner programs and sponsored searches are for schools that give us compensation. This does not influence our school rankings, resource guides, or other content that is editorially independent on this site.
Programs Currently Accepting Applicants
Click to see more Online Data Science Programs accepting applications
Available Online Data Science Programs for Michigan
Online Data Science Programs Based in Michigan
Online Data Science Programs in Michigan
University of Michigan Master of Applied Data Science
The School of Information has a Master of Applied Data Science that is offered completely online and focuses on bringing together people and technology. Coursework is separated into the following categories: formulating problems, collecting and processing data, analyzing and modeling data, and real-world application of data science. Each course will take roughly one month to complete, and each are worth one credit. This provides maximum flexibility for students who can take up to three credits in one month.
The 34-credit curriculum culminates with one of the following projects: showcasing knowledge in mining and processing data, showcasing techniques in analyzing and presenting data, or implementing the education into real-world situations. Full-time students can complete the program in one year while part-time students should be able to finish between two to three years. In order to be administered into the program, a Bachelor's degree is recommended and other materials to submit during the application process are transcripts, a resume, five short essays on various details of the student's career path, and Python and statistics assessment.
Baker College MBA with Statistical focus
A Master of Business Administration can be obtained online through Baker College. Skills learned in the program will be the ability to interpret and analyze data with various software tools and how to solve real-world business problems while maintaining a high standard of ethical and legal behavior. 36 credit hours are separated into 27 credits worth of core courses and 9 credits for electives, or three options to choose from to customize the degree toward a specific path. There is an option to accelerate the program and take at least three classes per semester to finish between 12 to 16 months.
Examples of core courses include Human Resource Management, Research and Statistic for Managers, and Strategy in a Global Environment. The curriculum is accredited by the International Accreditation Council for Business Education (LACBE). Employment rate was at 85.7 percent following the 2017-18 academic year.
Michigan State University Online Master Certificate in Business Analytics
The Broad College of Business offers a Professional and Master Certificate in Business Analytics that can be completed fully online. There are three courses to choose from under this path: Data Mining and Management Strategies, Applying Business Analytics, and Analytics for Competitive Advancement, all of them being at maximum eight-week courses, with an open-book test at the end. The courses are self-paced, but students must complete them within the eight-week allotment.
The two levels of certificates represent fundamentally different achievements. The professional certificate provides the ability to understand and apply data to improve business performance, while a master certificate gives education on how to gather, analyze, and manipulate the data. The latter is more geared toward professionals that already have work experience.
Scholarship Opportunities within Michigan
Those opting into the MBA program at Baker College are eligible for the Graduate Studies Accelerated Scholarship if they are taking at least 12 credits in a semester. The award gives the student up to $3,360 per academic year until the program is completed.
There are no scholarship options for graduate certificates at Michigan State University, but those enrolling into a Master of Science in Business Analytics program are eligible for an industry fellowship of up to $1,500.
The University of Michigan at Dearborn have a couple of scholarships available for graduate students entering their Master of Science in Business Analytics program. The admission scholarship, available to anyone that enters, will be reviewed based on their high academic record and work experience, and a requirement is five courses that need to be completed each academic year. Another scholarship covers 80 percent of tuition for those that are enrolled in at least six credits in each term, have earned over a 3.0 GPA, and they are unable to get financial aid.
Data Science Careers in Michigan
Michigan is a top-10 state in the tech industry, employing over 409,000 people according to CompTIA. That is ninth-best nationally and the state is only growing at a massive rate. 8.9 percent of the state workforce is 10th-best in the country, with the bulk of job occupations in software and web development. The metro area of Detroit-Warren-Dearborn hold a solid chunk of this employment with over 241,000 workers. Median salary in the state is $76,688, which is 86 percent higher than national wages and on par with nearby states like Ohio and Pennsylvania.
Data Science Events, Meetups, and Conferences in Michigan
Detroit Digital Summit
Detroit Digital Summit Website
This annual two-day conference features many influencers and professionals in digital marketing, be it nationally recognized brands, services, startups, and nonprofits. Over 1,500 attendees will be gathered in to listen and participate with over 55 speakers and breakout sessions, and it provides tremendous networking opportunities for any level of data science professional. Speakers have represented companies such as Google, Facebook, Pandora, and LinkedIn.
Ann Arbor New Tech Meetup
Well over 7,000 members are apart of this tech group that has been running since 2009. In the middle of each month, multiple companies and entrepreneurs present their new ideas in the data science field and open things up for a Q&A session. Outside of the flagship meetings, there are sporadic educational and happy hour meetups to learn about the sector and networking potential.
Big Data and Analytics Summit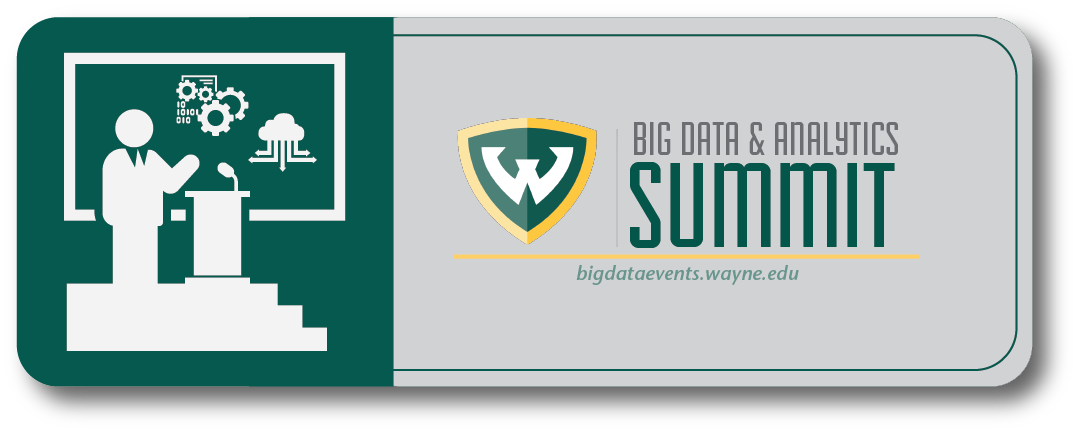 Big Data and Analytics Summit Website
Wayne State University presents an annual summit that focuses on managing and analyzing data in various company aspects of the supply chain, such as advertising, sales, services, and manufacturing. They look at problems and issues that have cropped up and potential innovation and techniques for the future. Keynote speakers and case studies will be available for attendees. Speakers have represented companies such as Mastercard, Ford, and TD Ameritrade.
Michigan Data Science Career Statistics Information
| | |
| --- | --- |
| Number of people employed within the tech industry: | 409,406 |
| Change in jobs from 2017 to 2018: | 12,354 |
| Average tech industry salary in Michigan: | $76,688 |
| Estimated Michigan tech salaries range: | From $47,836 to $114,697 |
| Male Employment: | 153,783 (71%) |
| Female Employment: | 63,149 (29%) |
* Data sourced from CompTIA, CyberStates.org, a data aggregate for tech workforce analytics.
List of Michigan Data Science Programs
Campus-based and Online programs
University
Program
Location

Baker College Baker College

MBA in Business Intelligence

Flint
Business intelligence offers in-depth look at operation efficiency. Determines potential risk when making significant alterations in strategy, marketing, distribution, and more. Core subjects in the program include database management, data warehousing, and statistical analysis.

Central Michigan University Mathematics

Certificate in Data Mining

Mount Pleasant
15 to 18 credit hours needed for Data Mining certification requirements. Offers courses topics such as programming in statistics, data mining, and data management. Bachelor's degree with a 3.0 cumulative GPA or higher needed for admission. Statement of purpose that describes professional experience is also required for consideration.

Central Michigan University College of Science and Engineering

M.S. in Applied Statistics and Analytics

Mount Pleasant
Specialized track within applied statistics or analytics depending on job role student considers. 30 to 33 credit hours required depending on prerequisite needs. Up to 15 credit hours eligible for transfer into the program if the degree is in a similar field. Each transferred course requires a B grade or higher.

Davenport University College of Health Professions

Master of Science in Health Informatics and Information Management

Grand Rapids
Data analytics concepts blend with organization and retrieval methods of electronic medical records. Potential to improve the treatment process or identify unique health complications. Along with analytical and technical subjects, students explore ethical and legal aspects. This is imperative when working with sensitive information, risk management, and leadership capability.

Eastern Michigan University Department of Mathematics

Master of Arts in Applied Statistics

Ypsilanti
Statistical analysis and theory featured in the core curriculum. Various mathematical and statistical elective options available from a collection of restricted choices. Program ends with an independent research topic. Alternative provides preparation for the doctorate program or an academic position.

Eastern Michigan University College of Business; Computer Information Systems Department

Masters in Enterprise Business Intelligence specialization in the Master of Business Administration

Ypsilanti
36 total credit hours needed for the MBA. Half of the program requires core topics in business strategy and management capability. Restricted electives include topics in business analytics, information systems, and supply chain management.

Grand Valley State University School of Computing and Information Systems

M.S. in Data Science and Analytics

Allendale
Offers courses in the evening for scheduling flexibility. Foundational topics available for students without a background in data science. Courses offered in 15-week modules and limited opportunities to learn online are available.

Grand Valley State University College of Liberal Arts and Sciences

Master of Science in Biostatistics

Allendale
37 total credit hours required, blending data science analytics with the medical field. Tools used in the program include R programming and SAS software. Internship experience earned through collaboration with Priority Health and Spectrum Health. Students have flexibility in scheduling courses with evening options.

Michigan State University Eli Broad College of Business

M.S. in Business Analytics

East Lansing
Students gain experience in descriptive, predictive, and prescriptive analytical methods. Culminates with a related analytics project that solves problems for a business. For example, students make certain processes more efficient. This program is only available on campus.

Michigan State University Department of Statistics and Probability (College of Natural Sciences)

Master of Science in Applied Statistics

East Lansing
First half of program features technical or theoretical focus on probability and statistics. Restricted electives requires at least nine credit hours at 800-course level or higher. There is a final comprehensive exam. Admission requires prior academic completion in college-level calculus and linear algebra.

Michigan Technological University The Graduate School

M.S. in Data Science

Houghton
Required topics include data mining, predictive modeling, and information systems management. Domain-specific electives are also available in business, chemical science, computer engineering, and mathematics. At least 18 credit hours needed at the 5000 to 6000-course level.

Michigan Technological University School of Technology

Master of Science Degree in Integrated Geospatial Technology

Houghton
Three different formats are available, concluding with a capstone project or extra coursework. Thesis option is ideal for those looking toward a doctorate education. Report option explores current issues or concepts in geospatial technology.

Michigan Technological University School of Technology

Master of Science Degree in Integrated Geospatial Technology

Houghton
Gather and interpret spatial information to improve urban planning and GIS capability. Other formats of this discipline include an accelerated Master's degree. Students have flexibility in transferring in up to six approved credit hours. Convenient online option offers scheduling flexibility for busy professionals.

Oakland University School of Business Administration

Master of Science in Information Technology Management in Business Analytics

Rochester Hills
Business Analytics concentration blends the concepts of implementing data solutions in information technology. Also improves both the services and capabilities of an organization. Students only need to take 18 of 30 credit hours when enrolled in an undergraduate degree.

Oakland University Department of Mathematics and Statistics

MS in Applied Statistics

Rochester Hills
Core subject matter features two levels of linear model techniques and mathematical statistics. Applied statistics project is solving a real-world scenario and presenting to faculty members. Optional concentration in biostatistics offers analytics with medical information and epidemiology.

University of Michigan EECS

Bachelor in Data Science

Ann Arbor
Core topics in the major consist of data structures, regression analytics, and probability. Prerequisites include intro-level programming, three levels of calculus, and linear algebra. To declare for the major, students must have completed programming and calculus courses.

University of Michigan Trans-Disciplinary

Graduate Data Science

Ann Arbor
Focused education in analytical methods and extracting information from different sources. Learn to create algorithms for unstructured data and solve missing data issues. Featured applications include Python and R programming, SQL and NoSQL, and ggplot.

University of Michigan School of Information

Master of Applied Data Science

Ann Arbor
Skills gained in data visualization techniques, machine learning algorithms, and scraping valuable information. Completed online with part-time or full-time enrollment. Program requires one to three years of study.

University of Michigan-Dearborn College of Business

Master of Science in Business Analytics

Dearborn
Six core subjects required for all students and overviews advanced statistical analysis. Capability to forecast and simulate results to improve decision making. Analytical concentrations include finance, human resource management, information management, marketing, and supply chain.

University of Michigan-Dearborn College of Engineering and Computer Science

MS in Data Science

Dearborn
Concentrations available in Applications, Big Data Informatics, Business Analytics, and Computational Intelligence. Courses completed at either the Dearborn campus or blending online and on-campus opportunities.

Wayne State University Mike Ilitch School of Business and College of Engineering

Master of Science in Data Science and Business Analytics

Detroit
Business and engineering degrees offered with various concentration options. Core curriculum courses include Advanced Analytics, Data Computing, and Data-Driven Business. Practicum offers hands-on experience using analytical tools and working with various data sets.
Notice a missing or inaccurate program? Our data is hand-collected and edited. If you notice a missing data science program, please email schools at datascienceprograms.org to enter a program to be reviewed or to adjust a current listing.