Review of Online Masters in Data Science Programs
Last Reviewed/Updated: November 18, 2020
Review a comprehensive list of 137 different universities that have an Online Masters in Data Science program.
Over 135 Schools with Online Masters in Data Science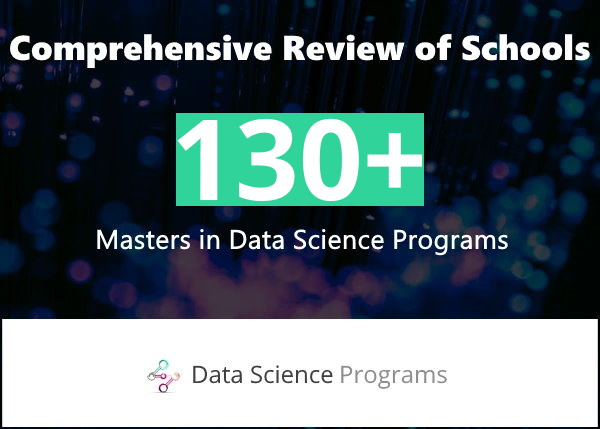 Finding the right online data science program can be a challenge for many reasons. One reason is there is not one single accrediting body that accredits Data Science programs, at any level.
We have searched the web to find every online Masters in Data Science program we could find. We have our researchers find every web page for every university with an Online Master of Data Science. From there, they reviewed the following information:
Online Availability: Ensure the data science program is an online program.
Campus Location: Many times the online Master in Data Science degree is based on the on-campus offering. This is a benefit, as the faculty and data science department has experience and an existing curriculum.
Entry Requirements: What requirements are there prior to admission? For example, are GRE or GMAT scores required? We have only highlighted this information: be sure to check with the admissions staff as this information can change.
Courses: We reviewed the university's course list and included a subset of classes that you can expect for the program. Many data science programs include classes that help you gain secondary experience in business, software, and marketing.
Online Learning Environment: We researched their website to gain an understanding of what classes are like. Are they synchronous or asynchronous? Are there online discussions? Is a webcam required? These vary!
Featured Online Data Science Programs
AD
DataSciencePrograms.org is an advertising-supported site. Featured partner programs and sponsored searches are for schools that give us compensation. This does not influence our school rankings, resource guides, or other content that is editorially independent on this site.
Online Programs Currently Accepting Applicants
Click to see more Online Data Science Programs accepting applications
Full List of Reviewed Online Schools with a Masters in Data Science
Listed in alphabetical order. Please contact us if we have program missing or if information needs updated. Please contact the school for any questions on admissions, coursework, etc.